180 Medical Catheter Company Founder Uses Personal Experience to Help Others
Submitted by admin on 7/14/2009 @ 3:00 AM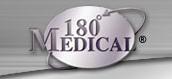 OKLAHOMA CITY, OK -- (Marketwire) -- 07/14/09 -- When Todd Brown was injured in a motocross accident that left him paralyzed from the T-7 vertebrae down twelve years ago, he had no idea he would one day be running the fastest growing medical supply company in the country.
Then 25, Brown went back to his job as a broker at Merrill-Lynch after two months of rehabilitation and vowed to get on with his life. Although he participated in his first wheelchair marathon just six months after his injury, he continued to encounter disability-related obstacles that dragged him down.
"My wheelchair was not fit properly -- I couldn't even fit through the door into my house -- and I was constantly getting Urinary Tract Infections (UTIs) from my use of catheters," said Brown.
To make things worse, none of the medical supply companies Brown dealt with were truly knowledgeable about spinal cord injuries. Most had no end users on staff at all, let alone any staff who could provide catheter information. Brown bought a new wheelchair that fit, and discovered closed system catheters which caused his UTIs to reduce, and improved his independence dramatically.
"I found that many others shared my same experience, and I was convinced there had to be a better way, so my wife and I started 180 Medical, Inc. We made it our mission to supply products that would help people become more independent, and adopted the motto: 'Supplying the products that help turn people's lives around,'" explained Brown.
Since that day 180 Medical has grown into one of the largest suppliers of urologic products in the United States. They are used as a referral source for some of the top Rehabilitation Facilities in the world because of their extensive knowledge and unmatched customer care.
At 180 Medical customers talk to a real person on the phone, their insurance companies are billed directly, and catheter products are delivered discreetly to their front doors after medical histories are obtained from doctors or case managers. 180 Medical carries a wide range of sterile use catheters including closed system catheters, intermittent catheters, female urinary catheters, hydrophilic catheters and pediatric catheters.
"I personally guarantee that if you try us for your urologic supply needs your life will be changed for the better," said Brown.
For additional information on catheter use and urinary tract infections call 877-688-2729 or visit www.180Medical.com.
About 180 Medical:
180 Medical is one of America's fastest growing "Nationally Accredited" providers of sterile use catheters, urologic and disposable medical supplies. 180 Medical is used as a referral source for some of the top Rehabilitation Facilities in the world because of their extensive knowledge and customer care. 180 Medical is networked with and covered by thousands of Health Plans, Insurance Networks, and State Medicaids; they also offer Medicare-covered catheters and catheter kits.
Add to Digg Bookmark with del.icio.us Add to Newsvine
Contact:
Contact:
180 Medical
877-688-2729