Ci&T Closes Out 2012 With New Client Wins, Strategic Partnerships, Company Expansion and Industry Recognition
Submitted by admin on 1/31/2013 @ 5:55 AM
Companies mentioned in this article:
Ci & T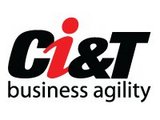 KING OF PRUSSIA, PA -- (Marketwire) -- 01/31/13 -- Ci&T, a Nearshore provider of value-driven web and mobile application services, today announced that it closed out an outstanding 2012, marked by new client wins, strategic partnerships, significant expansion and industry-wide accolades.
"This was a whirlwind year for Ci&T, and our success exemplifies how high-performance teams are transforming IT by bringing innovation and a sense of partnership to the outsourcing model," said Cesar Gon, founder and CEO, Ci&T. "The ongoing relationships we have built with some of the world's largest organizations are a testament to the hard work and dedication of the highly skilled professionals working at Ci&T. We look forward to exceeding client expectations as a development and IT innovation partner in 2013 and beyond."
Ci&T's 2012 business highlights include:
New Client Wins: Ci&T's high-performance teams completed many successful projects with new customers and expanded relationships with existing clients in 2012, including NSK Americas, MetLife Brazil and Dow AgroSciences Brazil, among many others.
Global Analyst Recognition: Ci&T was included in multiple industry analyst reports last year. Forrester Research recognized Ci&T's commitment to agile development in its February 2012 report, "Justify Agile With Shorter, Faster Development," and a September 2012 report, "Rightsource Your Agile-Lean Ecosystem" and noted the company's growth in mobile development in its February 2012 report, "Market Overview: Mobility Services" and the November 2012 report, "Build Five-Star Mobile Apps." Ci&T was also noted as a contributor to the Latin American IT services environment in Gartner Inc.'s "Competitive Landscape: IT Services, Brazil, 2012" report, Horses for Sources' "HfS Buyer's Guide: The 2012 Latin American Challengers" and Everest Group's "IT Application Outsourcing (AO) in the Life Sciences Industry - Service Provider Landscape" report.
Strategic Partnerships: Last year, Ci&T announced a partnership with Acquia to further Drupal adoption in managing multi-brand website content and digital marketing services projects. The collaboration expanded Ci&T's presence in the Drupal community, including Ci&T's Chief Architect Felipe Rubim's highly regarded presentation at DrupalCon Munich about selling Drupal into large enterprises. Ci&T also joined the Google Cloud Partner Program, enabling its high-performance teams to leverage Google technologies, like the Google Cloud Platform and Google App Engine to help clients reduce costs, improve quality, speed and business agility.
Industry Accolades: The year was marked by many industry award wins for Ci&T and its executives. The company made its fifth appearance on the International Association of Outsourcing Professionals (IAOP) Global Outsourcing 100 list, being named to the Leaders Category for the first time. It was also recognized as one of the "Most Innovative Companies in Brazil 2012" by Época NEGÓCIOS. Additionally, Leonardo Mattiazzi, vice president of international business, was selected as one of Philadelphia Business Journal's "40 Under 40" for his work establishing a strong U.S. presence for the company. On the mobility side, Ipanema Games, which emerged from Ci&T's Entrepreneurship Program, won the 2012 MobileVillage Mobile Star Awards gaming category, with its Happy Squirrels mobile app named as "Best Consumer Game."
U.S. Business Growth: Ci&T's U.S. presence grew significantly in 2012 as the company opened its first West Coast office in Irvine, Calif. during the summer. Additionally, Bruno Guicardi, Ci&T's chief operating officer, relocated to lead U.S. operations and business development efforts to contribute to the company's U.S. client growth.
About Ci&T:
Ci&T (www.ciandt.com) provides value-driven, Nearshore web and mobile application services and software product engineering. The company's high-performance teams employ agile methodologies and Lean principles to deliver innovative, value-generating projects for companies of all sizes, by leveraging the latest mobile, cloud and web technologies. A truly global company established in 1995, Ci&T is headquartered in Campinas, Brazil, with strategic locations across Latin America, North America, Europe and the Asia-Pacific region. For more information, visit www.ciandt.com
Contact:
Press Contact:
Ashleigh Egan Churchward
Articulate Communications Inc. for Ci&T
212.255.0080, ext. 12
ci&t@articulatecomms.com