KEMP Technologies Appoints Its First Distributor in the Mexico Channel for Its Load Balancing/ADC Technology
Submitted by admin on 1/29/2014 @ 8:00 AM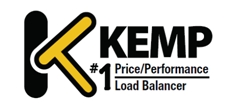 NEW YORK, NY -- (Marketwired) -- 01/29/14 -- KEMP Technologies (www.kemptechnologies.com) today announced that it has signed a distribution agreement with Xweb (www.xweb.com.mx), a value-added solutions and communications technology distributor in Mexico. Now Xweb resellers can sell KEMP's LoadMaster line of software, virtual and hardware-based load balancers and support services. The new partnership gives KEMP access to 2,500 VARs, IT solution providers, telcos and ISPs to throughout Mexico, continuing KEMP's rapid worldwide growth in the Application Delivery Controller (ADC) market.
The arrangement brings together Xweb's experience in Mexico with KEMP's product expertise. Existing KEMP authorized resellers can now take advantage of Xweb's services and expertise driven by partnerships with top solutions in the IT, data center, cloud and collaboration services markets. Xweb is committed to improving the competitiveness of its customers by offering them a selection of top-quality IT equipment and services that enable optimized application and server performance. Under the agreement, Xweb will drive channel activities including sales and marketing, order fulfillment and product shipment.
KEMP's load balancers (www.kemptechnologies.com/us/server-load-balancing-appliances.html) intelligently manage user workloads and critical applications including Microsoft Exchange, SharePoint and Lync, SAP, Oracle, and Cisco UCS servers, to ensure the availability, security and performance of those applications. The LoadMaster provides load balancing, content switching, SSL acceleration and offload and application acceleration. It increases server availability, clustering and fault tolerance and offers security via intrusion prevention, pre-authentication and single sign-on. The LoadMaster also distributes network requests and balances traffic among servers, thereby optimizing functioning and accessibility even if one server is not operating.
"KEMP is an ideal partner for Xweb because its ADC offerings support mid-market and larger enterprise markets," notes Javier Ruiz, general manager of Xweb Mexico. "Our mid-market and enterprise partners will have access to the high-performing KEMP load balancers, while our enterprise customers will find that LoadMaster meets customers' needs including integration with their Cisco and Dell servers, and VMware infrastructure."
"We are very excited about our new partnership with Xweb and the market has already yielded promising project opportunities in Mexico," comments Nuno Silveiro, KEMP Technologies area manager for Latin America. "Xweb offers increased and more convenient access to KEMP's product suite and is well known for its high level of support. Xweb brings technology distribution experience and a national footprint, along with a large pool of qualified VARs and end users that will be of great value to KEMP."
About KEMP Technologies
KEMP Technologies is the leading provider of application-centric load-balancer solutions, used by thousands of businesses that consider IT, e-commerce, web communications and business applications as mission-critical to their long-term success. KEMP helps companies rapidly grow their business by providing 24/7 application availability, better cloud app performance and secure operations -- while streamlining IT costs and maximizing affordability.
KEMP's LoadMaster products include Layers 4-7 load balancing, content switching, server persistence, SSL offload/acceleration, and application front-end capabilities (caching, compression, intrusion prevention system), plus one full year of product support -- delivering industry-leading price/performance advantages.
The company is headquartered in New York City with significant operations in Limerick, Ireland. For more information, visit KEMPtechnologies.com, or call at +1 646-374-0060.