DEA Announces New Version of Enhanced EMS Regics 3.0
Submitted by admin on 6/11/2014 @ 12:15 PM
Companies mentioned in this article:
DEA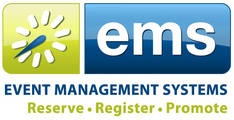 DENVER, CO -- (Marketwired) -- 06/11/14 -- DEA, the leading provider of facilities scheduling and event management solutions, announced the release of EMS Regics 3.0. This is the latest update to DEA's widely held collaborative event registration and survey software.
Highlighted new additions and enhanced features include:
Mobile-friendly design - Registration pages are now optimized for use on mobile devices.
New progress display bar - An option to display a progress bar during the registration/survey process is now available.
Add to group registrations - The ability to add registrants to a group registration after completing the initial registration is now available.
Payment requests - The ability to send out payment requests after completing the initial registration is now available.
Accounting transactions - The registrant accounting transaction display has been greatly improved.
Automated post-event surveys - The option to send an automated post-event survey is now available.
Add favorite items to dashboard - Event managers can now add and follow their "favorite" registrations/surveys in the dashboard.
"EMS Regics 3.0 has been significantly enhanced to improve our customers' experiences using the product," said Mike Wimett, director of product development for DEA. "The architecture of 3.0 makes it easier for users to navigate and offers a much sleeker design for use on mobile devices. We are very proud of the final end product."
As part of DEA's continued commitment to customer success and product leadership, EMS Regics receives new features in major updates every 12 to 24 months and additional improvements and enhancements on an as-needed basis.
"When we update and improve upon an existing product it is always with the customer in mind. Many of the latest enhancements were driven by customer requests," added Wimett.
Customers with current annual service agreements (ASA) can download the new version of EMS Regics in the Support Center area of www.dea.com. If an organization's ASA has lapsed, its representatives can contact their account executive or sales@dea.com for information on receiving this update.
To learn more about the new EMS Regics 3.0 update and the rest of the EMS product suite, visit www.dea.com.
About DEA
Founded in 1986 and based in Denver, DEA is the leading provider of facilities scheduling and event management solutions for meeting and event scheduling, resource management, academic scheduling, shared workspace management (office "hoteling"), web calendaring and online registration and surveys.
More than 4,000 organizations rely on EMS software, including many Fortune 100 companies and other leading corporations and law firms, over 1,000 higher education campuses, thousands of conference centers, religious organizations, hospitals, cultural venues and sports facilities. The company's products are used in over 75 countries and backed by an award-winning customer support team. For more information, visit www.dea.com and follow us on Facebook, Twitter and LinkedIn.
Trademarks
EMS and the EMS logo are registered trademarks of DEA (Dean Evans and Associates LLC).